Use Extreme Caution With Home Electrical Work

Altamaha EMC is teaming up with the Electrical Safety FoundationInternational (ESFI) to warn homeowners about the dangers of attempting to perform home electrical improvement and repair projects without hiring a qualified electrician.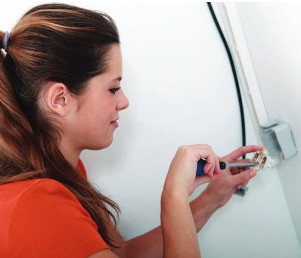 "Working with electricity requires thorough planning and extreme care, and cutting corners can be a costly mistake," cautions ESFI President Brett Brenner. "Whether you are a first-time do-it-yourselfer or a 'weekend warrior,' practicing safe habits can prevent electrical fires, injuries and fatalities, when it comes to home electrical projects."
The U.S. home improvement market nearly doubled in size between 1995 and 2005, reaching a high of $280 billion a year, according to the Joint Center for Housing Studies at Harvard University.
Over the same period, emergency rooms reported ever-increasing numbers of visits attributed to injuries from home workshop equipment. Many of these homeowners were critically injured while attempting to perform home electrical work themselves.
"Many electrocutions and home electrical fires can be prevented simply by understanding basic electrical safety principles and adhering to safe practices," says Brenner.

More Safety Tips:
Teach your children about electrical safety.

Protecting your family from electrical shocks and other hazards.

15 tips to help you keep your family and home safe.
How to protect yourself from lightning.
The best way to protect your family and your home against the risk of electrical fires or electrocution is to hire a qualified, licensed electrician to perform any electrical work in your home. But if you decide to undertake a home electrical project yourself, consider these important safety tips to help ensure your safety and the safety of those around you:
Never attempt a project beyond your skill level. Knowing when to call a professional may help prevent electrical fires, injuries and fatalities.

Always turn off the power to the circuit that you plan to work on by switching off the circuit breaker in the main service panel.

Make an effort to learn about your home electrical system so you are able to safely navigate and maintain it.

Test the wires before you touch them to make sure the power has been turned off.

Use a ground-fault circuit interrupter with every power tool to protect against electrical shock hazards.

Be sure to unplug any lamp or appliance before working on it.
Never stand in a puddle or on a damp floor when working directly with or near electricity.

Always have your work inspected upon completion to ensure that it has been done correctly.

For more information about ESFI and National Electrical Safety Month, visit www.electrical-safety.org.