THE POWER OF THE MEMBERSHIP
>>81ST ANNUAL MEETING HIGHLIGHTS<<

Now, as always, it's a good time to be a member of an electric cooperative. Not only are co-ops locally owned and controlled - by you, our members - they are locally run to serve your needs.
While many Georgia electricity consumers pay power bills to companies that answer to far-away stockholders who demand a healthy profit every quarter, local members call the shots at electric co-ops like Altamaha EMC Co-ops aren't under pressure to keep rates high enough to generate big profits.
Instead, co-ops try to keep your bill as low as possible while providing high-quality service. Co-ops invest money in excess of operating costs back into the business locally or return the excess (known as margins) to you in the form of capital credits.
Unlike the boards of directors of investor-owned utilities who keep an eye on generating profits for people living far away, Altamaha EMC's directors (pictured above, along with General Manager Romanous Dotson) have only one thing in mind: keeping lights on safely and reliably, and keeping costs affordable in our community. That's why you elected them. And that's what's so great about co-ops.
You may know the history of the electric cooperative movement, how seven decades ago rural residents banded together to bring the conveniences of electricity to their communities when investor owned utilities would not extend service. The associations they formed, on the same democratic principles as this great nation, are as strong and relevant today as they were then.
But co-ops are not just products of a proud past. These days, Americans from all walks of life have come to recognize that the co-op approach - members working together to achieve price and service benefits - can work for other needs just as effectively as it delivered affordable power to rural Americans. The seven principles upon which electric co-ops were founded - voluntary and open membership, democratic member control, and members' economic participation, among others - are as meaningful today as they were when electric co-ops began in the 1930s.
The leadership at Altamaha EMC shares the same concerns as you, our members. We are accessible. You can give us a call or send us an e-mail and know someone here is listening. Our annual meeting is the perfect opportunity to visit with us in person and share insights on how you want your business operated. In these days of economic turmoil, folks who receive electricity from co-ops are lucky. As locally owned and operated businesses, electric co-ops understand the people they serve.
The directors, management and employees of Altamaha EMC share the same values and have the same pride of place as you do because it is our community, too. We act like neighbors because we are neighbors.
THE 81ST ANNUAL MEETING HIGHLIGHTS.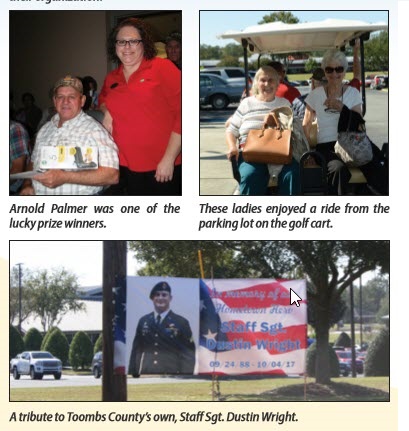 Acrowd of over 1,000 people gathered at Southeastern Technical College in Vidalia on November 1st for Altamaha EMC's annual meeting of the members. A total of 812 members registered for the meeting.

Romanous Dotson, Altamaha EMC General Manager/CEO, addressed the membership and discussed the restoration efforts following Hurricane/Tropical Storm Irma. Bryan Isgett of McNair, McLemore, Middlebrooks and Co. reviewed the cooperative's financial reports showing the sound financial position of Altamaha EMC.

Directors Billy Benton, Brandon Braddy and Robert E. Youmans were each re-elected by acclamation to a three-year term on the board.

The management, board and employees of Altamaha EMC chose The Mercy Ministries as the cause for this year's annual meeting. Staff from The Mercy Ministries sold raffle tickets for a $100 gift card. Members also donated money to The Mercy Ministries to help offset the cost of patient care.

A banner was displayed in front of Southeastern Technical College honoring Staff Sgt. Dustin Wright. On Oct. 4th, 2017, Dustin lost his life while serving as a Green Beret in Africa. He died from wounds sustained during combat. Dustin was 29 years old. His brother, William Wright, led the pledge of allegiance at the beginning of the meeting.

Door prizes were awarded after the meeting adjourned. All members and guests were given a bucket with prizes and treated to refreshments as they left the meeting.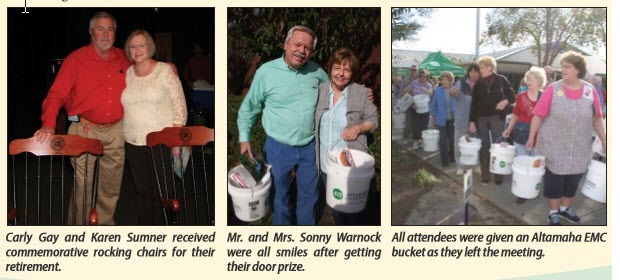 Related Articles:
Membership Has Its Privileges
We Are Different -- We Are Looking Out For You!
What Makes Cooperatives Special